Katherine Leonard
A New Voice for Elizabethtown and Hardin County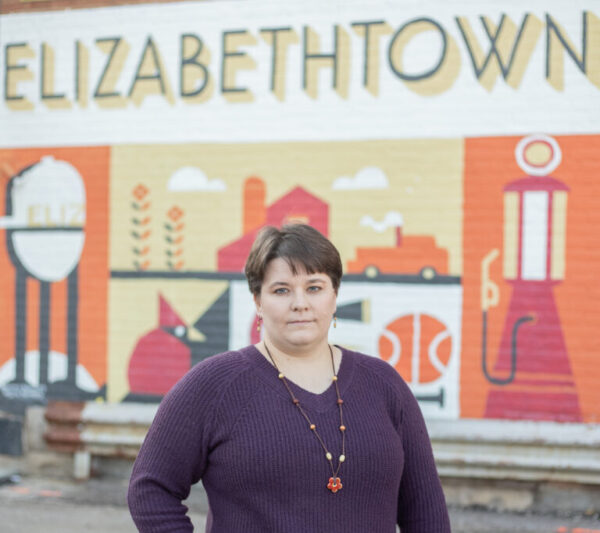 A lot of politicians have lost the ability to listen to their constituents and are instead caught up in tribalism and political theatre; that makes for snappy partisan sound bites and social media shares, but it doesn't do anything to solve the problems every day people face.
Elizabethtown and Hardin County are at a literal and figurative crossroads. We're at the intersection of a major north-south interstate and the east-west parkway system, and we're on the precipice of becoming a major player in emerging technologies. The new EV battery plants coming to our area will lead to an explosion in growth that our local infrastructure isn't ready to handle yet… but there's time, if we act swiftly and decisively to make needed improvements.
I'm running to put government to work for people. If the COVID pandemic, tornado outbreaks, floods, and other disasters we've endured have proven nothing else, it's that anyone can experience hardship and loss. Government works best when it's providing for the common good. It's hard to know what the "common good" is if you are listening only to moneyed interests or grievance issues.
I don't promise to have all the answers, but I'm a good listener and problem-solver, and I'll take empathy and honesty with me to Frankfort.
Familiar Face and Name
The youngest of Richard "Mike" and Pat Leonard's eight children, Katherine Leonard is a Hardin County native and alumna of our public school system.
After graduating from Central Hardin High School, Ms. Leonard entered the workforce, becoming a familiar face in local retail and eventually attaining a position in inventory management. She left that role to provide wholesale support to small businesses in the military and first responder supply industry, then departed to attend college full-time. While pursuing higher education, she worked in part-time jobs such as waitress, in-store demo & sales, and inventory support. She also held internships in database management, software development, web design, and marketing.
Ms. Leonard holds an Associate's of Applied Science in Web Development & Administration from Elizabethtown Community & Technical College. During her time at the college, she earned awards for her persuasive writing and her knowledge of database systems. She also earned a Bachelor's of Fine Arts from Eastern Kentucky University for Graphic Design, which she paired with a minor in Computer Science. Soon after graduation, she was hired as a web & graphic designer for a software services company in northern Kentucky, which provides inventory management support to thousands of small businesses in the automotive recycling industry. She continues to work there today, having taken her position remote to return to her roots in Hardin County.
Since returning to Hardin County, Ms. Leonard has started a small business—KML Creative Services LLC—which is has two divisions: Kat & Mouse for freelance web and graphic design services and The Crafty Kat for her handmade jewelry, home décor, and apparel.
Honesty Starts with Transparency
I own stocks. Not a phrase I'd ever thought would come out of my mouth, but that is indeed the case.
In 2020, I downloaded the Robinhood app in order to purchase shares in Kentucky-based AppHarvest when it became publicly traded. Then, in early 2021, I got an "itchy feeling" that something big was going to be happening with Ford Motor Company with respect to electric vehicles. I purchased shares in Ford a few weeks before the F-150 Lightning was unveiled, which was itself months before the Blue Oval SK investment was announced. My stake in both companies is less than 100 shares combined and currently valued at under $500, so I'm hardly a top shareholder for either.
When creating my account, Robinhood also gifted me with one share each in two separate pharmaceutical companies I've never heard of. The combined value of those shares is less than $5.
I'm no Wall Street insider and I tend to invest in companies I believe in rather than trying to "game the system" in pursuit of wealth. That approach makes me a terrible stocks trader, but I believe it makes me an excellent steward of the Commonwealth: investing in people over profits.